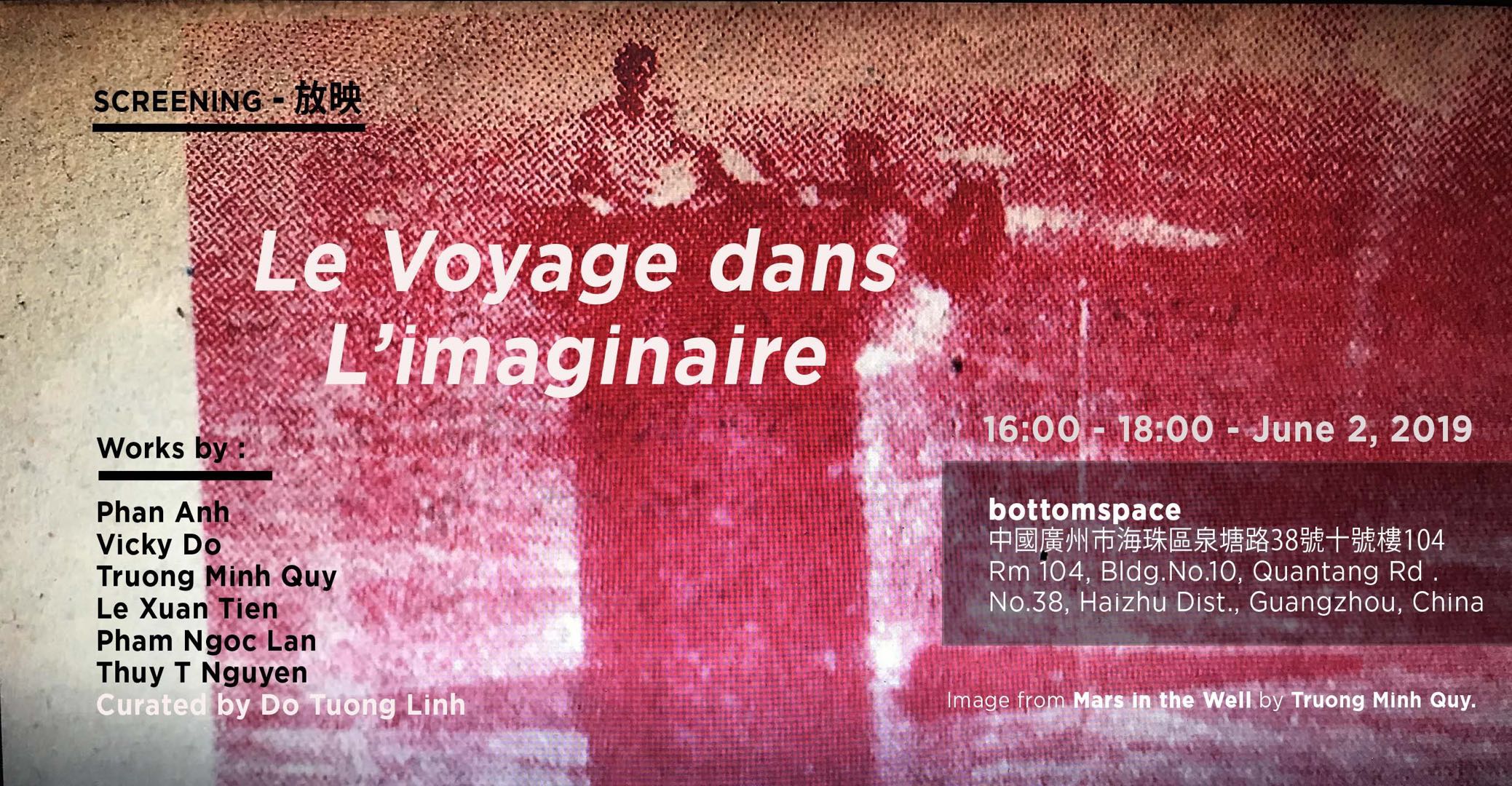 Screening:

Le Voyage Dans L'imaginaire



Sunday

June 2, 2019

4-6pm



Before the birth of technology, human tracked time through

natural transformation. Recording technology has allowed us the

flexibility to freeze or fast-forward spaces and time, which has

also opened up to creative analysis. Within the process of

documentation, reassessment, and invention, we have realized that

perception of time and space is often fluid instead of fixed,

subjective instead of objective - some of whose aspects even

belong solely to the realm of imagination.



Parodying the classic Le Voyage Dans la Lune (A Trip to the

Moon) (1902) by Georges Méliès, Le Voyage Dans L'imaginaire

(A Trip to the Imagination) isn't only call-back to the history of

cinema but also as a reminder of the France's continuing colonial

influence worldwide. It is also a reflection of how Vietnam unlike

the rest of East Asian countries has entered modernity through the

adoption of romanized language system during the French

colonial period.



Creating various creative strategies of navigating with images and

capturing time from the use of science fiction, texts, found

footage, digital manipulation to documentary, the artists have

attempted to record and reflect on their different realities in

different levels both from the personal to the public. Above all the

journeys each of them embark on is a timeless one with the effort

to explore different spheres, observing time and making sense of

one's being in the world.





Glad I made it on time, 10', 2018 by Phan Anh



Mars in the Well, 19', 2014 by Freddy Nadolny Poustochkine &

Truong Minh Quy



The Story of Ones, 11', 2011 by Pham Ngoc Lan



From Baudelaire to, 11', 2018 by Le Xuan Tien



Skyzoo, 4', 2014 by Thuy T. Nguyen



Personal Notes on Collective Memories, 29', 2018 by Vicky Do





Glad I made it on time, 2018



The work offers the audience access to multiple approaches to

seeing materials and phenomena with subjectivities. Through his

practice of collecting objects, Phan Anh suggests a figure made

out of the stones that he collected from all over the city of

Gwangju; a cairn with more than 50000 hand-written Korean

letters was constructed that serves as a landmark for his culture at

the age of globalization.



Mars in the well, 2014



In 2053, Vietnam is submerged in water. People have to move to

the higher places for survival. The Vietnamese government has

tried more than once to carry people to Mars, but their attempt

turns out to be just a bitter failure....



The Story of Ones, 2011



Utilizing the banality of Vietnamese state radio broadcasts,

The Story of Ones gives a face and a sense of place to the unseen

and offers a personal counterpoint to the officially sanctioned.

Like entering a roomful of stories, the viewer steps into an

unfamiliar space guided only by the sound of the radio tuning into

lifestyle programming, call-in shows and radio dramas. The

portraits and settings layered atop the aural landscape create

questions, provide humor, offer context and withdraw explanation

of what once seemed clear before entering the room.



From Baudelaire to, 2018



The work manifests a loosening of rational choices, instigated by

a reading of the poem "To the Reader" from Charles Baudelaire's

collection The Flowers of Evil, combined with a viewing of

Nha San Collective's 15th-anniversary documentary. The visual

condensations or continuations of the images were reproduced

through some sense or instinct of the maker, it's the process of the

footages were being found themselves, associated with a four-

limbed structure, spreading in four directions from a central zone.



Skyzoo, 2014



When I first saw Skymall magazine on a flight, I discovered an

interesting angle of American consumerism. The creativity and

absurdity of Skymall's products inspired me to create this work.



I used found images and videos from shopping catalogs and

flyers. I am interested in the image recycling process that is

inevitable in popular culture. I filter what is interesting,

appropriate, and important in the new content and context of the

work.



Personal Notes on Collective Memories, 2018



Vicky's project begins with the neighborhood she resides –

District 4 – one of the twenty-four districts that make up Saigon,

Vietnam's largest city. Notoriously known for its history of violent

crime and social maladies, District 4 was once neglected and itself

deemed a malady of the city, sheltering the underbelly of society.

It has now become a hotspot for property development,

undergoing vast-scale structural change. A juxtaposition of a

gloomy past and a seemingly illuminating present, mixed with

extreme poverty and extreme wealth, District 4 embodies an urban

reality commonly found in various Asian megacities, where issues

of social inequality, segregation and displacement are becoming

more pronounced than ever before. In this constant social flux,

how does one create their place of contentment to find their

"home"? Inspired by the elements that make up the genius loci of

District 4 and its inhabitants, Vicky employs the language of

video art, installation, sculpture and story-telling, blurring the

representational boundaries between personal and collective

memories, fact and fiction. Digging variously as both a part-taker

and an observer, an insider and an outcast, she questions what it

means to feel a belonging towards a location and community; how

a "home" can be a place for both the one and the many.





Artist biographies:



Phan Anh (b.1990) is a multidisciplinary artist. Graduated from

HCMC Fine Arts University and received his MFA from Utrecht

School of the Arts (The Netherlands). He is currently based in

Saigon. His works use personal and collective memories to

explore both mental and physical possibilities of human beings in

correlation with beliefs in abstract concepts. For him, art making

has always been an honest effort to make sense of himself as one

individual who plays an unpredictable part in phenomena.



Truong Minh Quy (b.1990), a Vietnamese filmmaker, lives and

works here and there in the vibrancy of memories and present

moments. His narratives and images, lying between document and

fiction, personal and impersonal, draw on the landscape of his

homeland, childhood memories, and the historical context of

Vietnam. He has exhibited his films at Clermont-Ferrand Film

Festival, Oberhausen Film Festival, Les Rencontres

Internationales Paris/Berlin and VideoBrasil.



Pham Ngoc Lan (b.1986, Hanoi). He studied urban design and

urban planning from 2004 to 2009 at Hanoi Architecture

University (HAU). Inspired by the paradox of all living things,

Lan considers himself an urban life observer rather than an artist

or urban designer. Using photography and video as two of the

favourite tools to express his ideas, his work attaches special

importance to the direct, poetic and especially the whimsical

respects of human life.



Le Xuan Tien (b. 1995) is a cinema-based moving image

practitioner currently based in Hanoi, Vietnam. Tien graduated

from Hanoi Academy of Theatre and Cinema in 2017 with a

degree in Cinematography. Since 2015, he has started practicing

and working with moving images independently. Using and

continually exploring moving images as the main medium, Tien

puts his efforts on walking in circle, trying to raise his head up

and look towards God.



Infinithuy is the internet-name of Thúy T. Nguyễn. Thúy (b. 1991)

is a Ha Nội-born, New York-based artist & designer. She studied

visual arts and media at Bennington College. Her work spans

multiple disciplines, aiming to push the boundaries between art,

design, and technology. Thúy's work has been shown in New

York, Boston, Tokyo, Paris and Ha Nội. She is the founder of A

Home Visit (Bạn Đến Chơi Nhà), a Vietnamese creative collective

in New York City, that brings like-minded people together to

facilitate conversation and sincere interaction.



Vicky Do (b. 1990, Saigon) graduated from Texas Tech

University, going on to complete an MFA in Creative Media at

City University of Hong Kong. She has worked in Hong Kong as

a researcher and an independent artist. She is a member of

Floating Projects and Archive of the People in Hong Kong. She

now works as the curator for Chaosdowntown Chao and a

researcher and production lead for San Art, a longest running

independent art initiative in Saigon. Her work focuses on the

displacement of people, urban planning and archival practices.



Đỗ Tường Linh (b.1987) is an art researcher and curator based in

Hà Nội, Việt Nam, whose work concentrates on conceptual art,

post-colonial studies and the relationship between art and politics.

Graduated from Vietnam University of Fine Arts and received her

M.A in Contemporary Art & Art Theory of Asia and Africa from

SOAS, University of London. She is the co-founder and artistic

director of Six Space (www.sixspace.vn), an artist-run venue in

Hà Nội. Linh has been participating in a wide range of local &

international art projects and collaborations, such as "Behind the

Terrain" - Traveling exhibition in Indonesia; Việt Nam & Japan

(2017-2018); "SEA Currents," London, UK (2017); Arts Space

Network Residency at Asia Culture Center, Gwangju, Korea

(2018); "To Edit is To Resist! The Art Book Fair of the Africas,"

La Colonie, Paris, France (2018); Site and Space in Southeast

Asia (2018-2020); SEAΔ Mekong Cultural Hub (2018-2019) and

Asia-Art-Activism (2018-present).